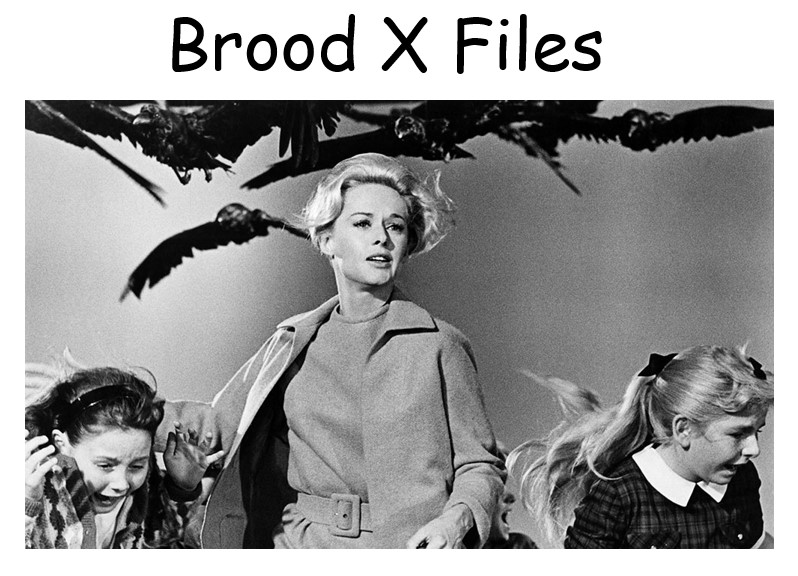 The emergence of 17-year (or 13-year) periodical cicadas is one of the most unusual biological phenomena on Earth, and occurs in almost entirely within the eastern United States and nowhere else. Brood X is one of the largest, if not the largest, cicada broods, and is scheduled to appear any day in the lower Midwest. The last time they emerged was 2004, and the next time will be 2038. Millions of cicadas per square mile will emerge above ground after 16 years and 11 months below ground. They will proceed to sing, mate, lay eggs and die. Then the next generation will begin and emerge again in 17 years.
I conducted research on periodical cicadas from 2001-2007 with the support of the NSF. The goal was to investigate the potential effect of cicadas on forest ecosystems, and to produce a documentary on their biology and our research for public audiences. The idea that the US is being invaded by enormous hordes of insects generated world-wide attention and interest. Many people found the cicada emergence to be creepy and disgusting, but many others delighted in different aspects of the emergence. Their sheer numbers, the science-fiction sound of their singing, the other animals that stopped what they were doing and chowed down on cicadas, and the varied human reactions all created a once-in-a-lifetime experience. In its aftermath were piles of dead and rotting cicadas emitting an unmistakable stench.
This spring I am headed back to southern Indiana to relive the amazing events of 2004 and to lend my scientific expertise on periodical cicadas to other researchers and the various media reporting and filming Brood X. Here I have provided links to publications on periodical cicadas from my former lab group at Indiana University, links to our 50 minute documentary, TV shows and a news conference on cicadas, as well as a listing of NSF awards for Brood X. If you can't make it this time, 2038 is just around the corner!
Keith Clay
Professor and Chair
Department of Ecology and Evolutionary Biology
Tulane University
New Orleans, LA 70118
Our Cicada Publications (from K. Clay and lab):

Clay, K., Shelton, A.L. and Winkle, C., 2009. Effects of oviposition by periodical cicadas on tree growth. Canadian journal of forest research, 39(9), pp.1688-1697.
Clay, K., Shelton, A.L. and Winkle, C., 2009. Differential susceptibility of tree species to oviposition by periodical cicadas. Ecological Entomology, 34(2), pp.277-286.
Speer, J.H., Clay, K., Bishop, G. and Creech, M., 2010. The effect of periodical cicadas on growth of five tree species in Midwestern deciduous forests. The American Midland Naturalist, 164(2), pp.173-186.
Flory, S.L. and Mattingly, W.B., 2008. Response of host plants to periodical cicada oviposition damage. Oecologia, 156(3), pp.649-656.
Mattingly, W.B. and Flory, S.L., 2011. Plant architecture affects periodical cicada oviposition behavior on native and non‐native hosts. Oikos, 120(7), pp.1083-1091.
Some Cicada Links (Videos and Websites):
Brood X presentation to NSF Office of Integrative Activities June 2021 https://nsf.zoomgov.com/rec/share/pmxfahzsh9_-fnEAezp0cGFUuku7CP6cnpeVJHPXJmb4Z3zBXVDp3MBbX-v8IPM4.I2Q8eerjjijOBP8o Access code: Fj3sM7^+
The IU Produced Documentary The Cicada Earth with Keith: https://youtu.be/T67t9kBN5so
Our 2004 Return of the Cicadas Documentary: https://clay.tulane.edu/videos/
Friday Zone Children's TV show on Cicadas with Keith: https://www.youtube.com/watch?v=8WGsceLTWzg
Keith at NSF News Conference on Cicadas 2004: https://www.nsf.gov/news/mmg/mmg_disp.jsp?med_id=58266
Cicada Website with a wealth of information: Cicada Mania https://www.cicadamania.com/
Cicada Citizen Science Mapping Website: https://www.cicadasafari.org/
Our Previous NSF Grants on Cicadas:
NSF 0227608 Indiana U. SGER: An opportunity to study unpredictable events of catastrophic proportions in temperate forest ecosystems: Developing a baseline to assess cascading effects and coupled interactions. $20,562 2002-2003
NSF 0523127 Indiana U. Collaborative Research: Periodical Cicadas and Forest Community dynamics. $305,969 2004-2007
NSF 0514672 Indiana U. Cicadas and Forests Education $74,994 2005-2007
Brood X Gallery